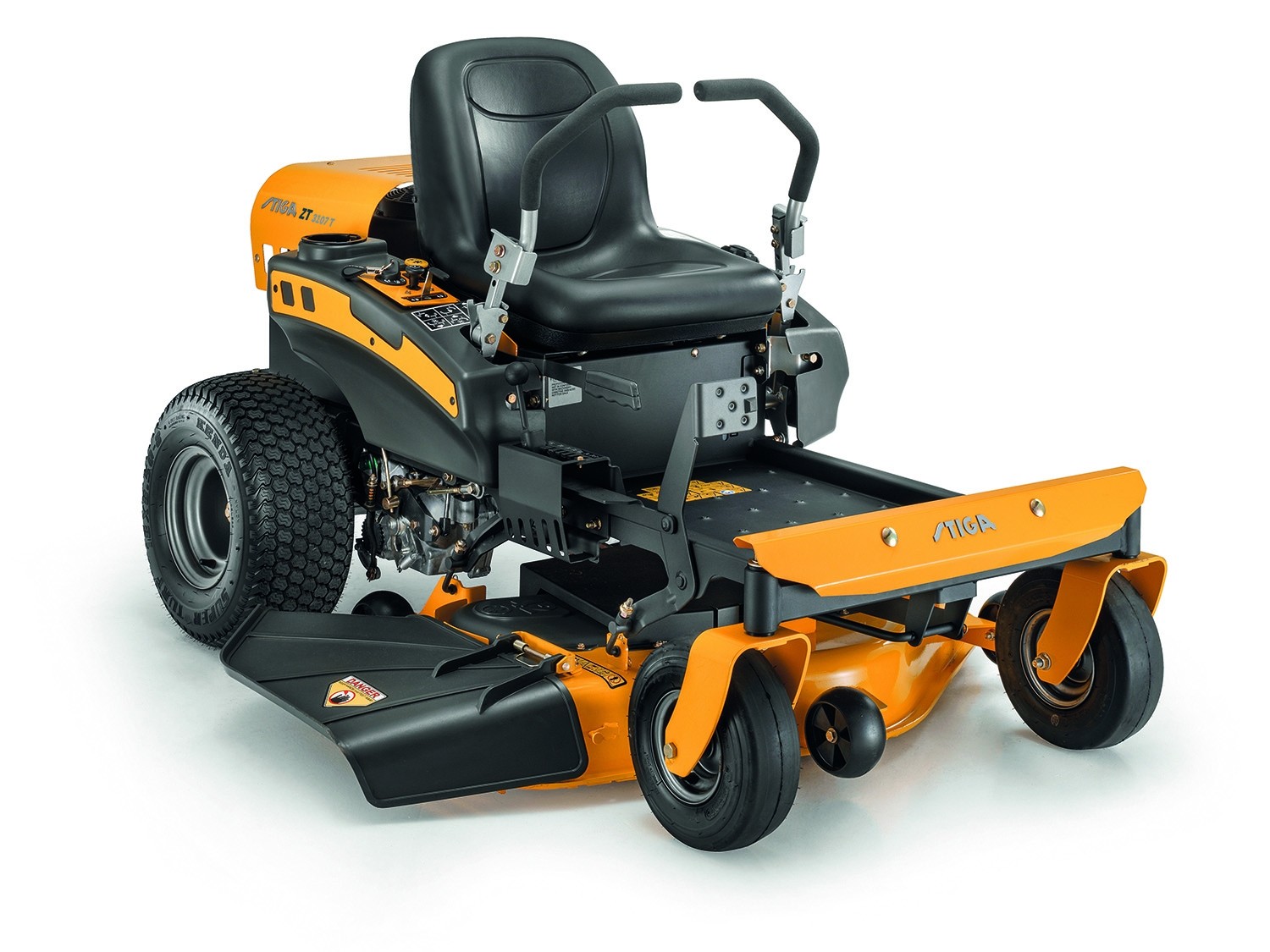 STIGA ZT 3107 T Zero Turn Mower
RRP €4998.00
The Stiga ZT 3107 T Zero Turn Mower offers fast and effortless mowing.
Enjoy a new driving experience thanks to the unique easy-to use steering levers that allow precision turning, making cutting around flower beds and obstacles a breeze.
The robust 107cm 3 bladed steel deck is designed to work in all seasons. Its cutting efficiency is combined with the easy-to-use pivoting front wheels, allowing you to turn easily without damaging the grass.
Powered by a Briggs & Stratton Intek 7200 V-Twin 656cc engine and featuring large rear wheels, large fuel tank and electromagnetic clutch for engaging the blades, this side discharge unit offers cutting edge solutions for mowing large areas at high speed. An optional mulching kit is available to buy separately if a more formal finish to the lawn is required.
The comfort seat absorbs vibrations while the movements of the levers allow easy turning. The foot operated deck lift raises and lowers the deck with a simple gesture.
Cutting the grass has never been more fun or quick!
Engine Brand:
Briggs & Stratton
Engine Type:
Intek 7200 V-Twin
Engine Capacity:
656cc
Net Power Output:
10.1kW @ 2600rpm
Fuel Tank Capacity:
11.3 litre
Drive:
Rear Wheel Drive
Transmission:
Hydrostatic
Max Speed:
7.2km/h
Mulching Kit Available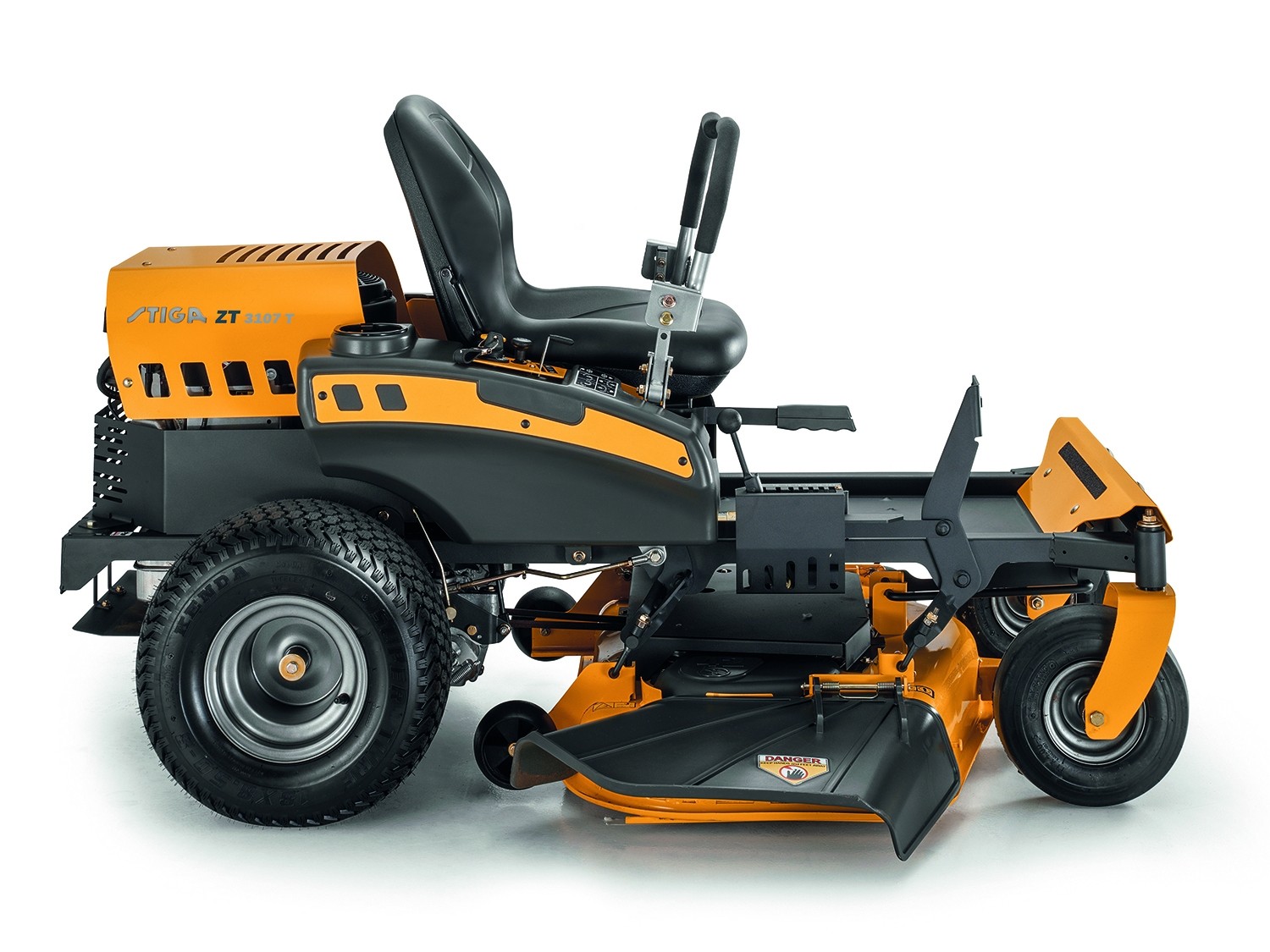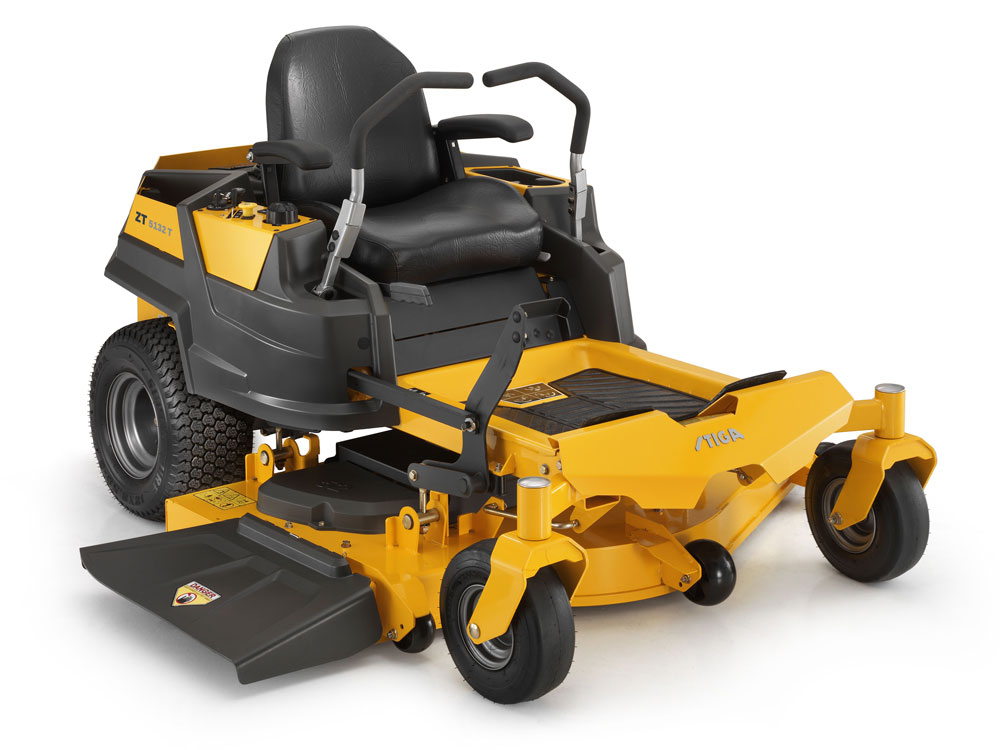 STIGA ZT 5132 T Zero Turn Mower
RRP € 5,999.00
The Stiga ZT 5132 T Zero Turn Mower, designed for mowing large areas in less time – giving you more time to enjoy your garden.
Providing excellent manoeuvrability, this zero-turn mower allows you to turn a full 360° on the spot enabling you to mow round any obstacle in the garden. Powered by a Kawasaki FR691 Twin Cylinder 726cc engine that provides an effortless ride even through the rougher conditions. The two unique steering levers give precise control, whilst the easy-to-use pivoting front wheels enables the mower to turn easily without damaging the lawn.
Featuring the Stiga Comfort Plus seat with armrests that absorb vibrations during cutting, and the footrest area with the lifting pedal that allows you to operate the deck lift without having to leave you seat. Additional features include large rear wheels, a massive 52" cutting width, fabricated cutter deck providing strength and endurance and an electromagnetic clutch for engaging the triple blades.
Once you have used this machine for a couple of minutes you will soon realise how responsive and fun this zero-turn mower is to use – you may even find you want to mow your neighbour's lawn when you've finished your own!
Engine:
Kawasaki FR691 V Twin
Engine Capacity:
726cc
Net Power Output:
16.5kW @ 3150rpm
Fuel Tank Capacity:
10.5 litre
Drive:
Rear Wheel Drive
Transmission:
Hydrostatic
Max Speed:
11.3km/h
Wheels Front:
11″
Wheels Rear:
18″
Mulching Kit Available