Castelgarden Tractor Mowers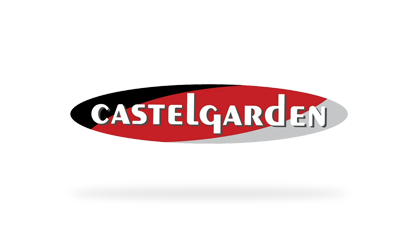 Castelgarden is a leading European brand, well-known for its ride-on mowers and powered garden equipment.Castelgarden offers excellence and exclusive Italian design. Through product development, Castelgarden strives to maintain collection efficiency and power, performance even in the most difficult mowing conditions, as well as design and comfort. As Green Passion illustrates, Castelgarden products meet all the needs of those who take pleasure in caring for their garden.Powerful and safe, technologically advanced and aesthetically pleasing, easy to use and exciting to drive, the high quality of Castelgarden products is a winner every time.Castelgarden is an important name in all European markets, with an extensive distribution network to cover all distribution channels.Whether you need a product for domestic or professional use, Castelgarden is the ideal partner to power your passion for nature in all seasons.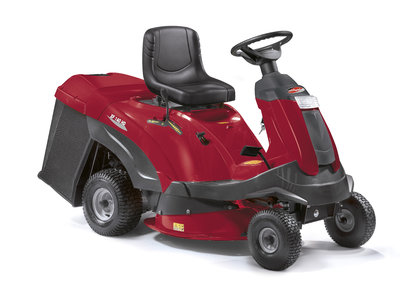 CASTELGARDEN XF 135 HD
RRP € 2,649     ( contact us for our  best price available )
The compact Castelgarden XF 135 HD rider is ideal for the smaller garden allowing you to work in tight, restricted areas. Its rear mounted engine allows for greater forward visibility and manoeuvrability. Powered by a STIGA ST350 engine, it comes with hydrostatic transmission which allows for easier control in obstructed areas.
Equipped with a 72cm cutting deck with a single collecting blade it boasts a highly effective collecting system. Engaging the cutting deck couldn't be easier as its manual lever is situated beside the steering wheel. The adjustable seat provides the driver with optimum comfort. It also has seven preset cutting heights, ranging from 30mm to 80mm, which are selected by using the lever located conveniently at the side of the seat. The rear mounted 170 litre grass catcher can be easily emptied from the drivers seat via the handle bar. A deck wash facility means keeping the deck clean couldn't be simpler; just attach a hose to the snap-on connector, turn on the water and engage the blades.
The Castelgarden XF135 HD rider is also an extremely versatile machine. While all models collect the grass clippings as standard, it also offers additional methods of discharging the grass. Optional accessories include a rear deflector attachment or a mulching kit for recycling your grass. Switching between standard collection or mulch modes is a simple process; just remove the collector, insert the mulching plug into the discharge chute and replace the collector. To return to standard collection simply reverse this procedure.
Suitable for gardens up to 2,500m2
ENGINE
STIGA ST350 Engine, 352 cm³, 6.5Kw
TRANSMISSION
Hydrostatic Transmission
Cutting deck
72cm Cutting Width
Blades
1
Grass Collector
170L Grass Bag
Battery Charger:
Included
Mulching Kit:
Optional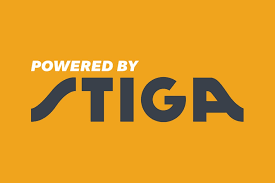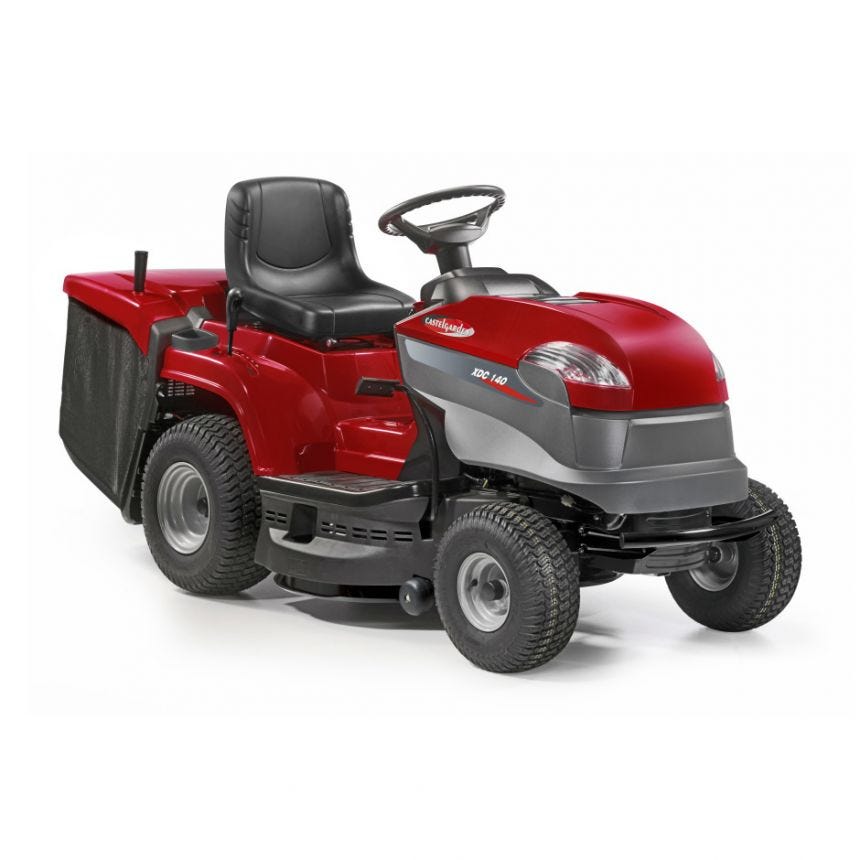 CASTELGARDEN XDC140
RRP €2,799     ( contact us for our best price available )
The Castelgarden XDC 140 is a ride-on mower powered by a single-cylinder Briggs & Stratton petrol engine with a net power output of 5.8 kW @ 2400 rpm and has an 84 cm cutting deck with two blades. The grass collector can hold 240 litres and the cutting height can be adjusted to 7 different settings (from 25 to 80 mm). Other advantages are the cup holder,electromagnetic blade clutch, ergonomically designed seat and headlights that ensure optimum visibility at any hour of the day. Battery charger and tow hitch included. The mower can also be set to mulch grass clippings with an optional mulching kit.
SUITABLE FOR GARDEN UP TO 3,500m2
ENGINE
BRIGGS & STRATTON 344CC , NET POWER OUTPUT OF 5.8 KW @ 2400 RPM
TRANSMISSION
MANUAL – 6 GEARS: 5 FORWARD GEARS AND 1 REVERSE
CUTTING DECK
84CM
BLADES
2
GRASS COLLECTOR
240L
HEADLIGHTS
YES
FRONT BUMPER
YES
BATTERY CHARGER
Optional Extra
TRAILER HITCH
Optional Extra
MULCH KIT
Optional Extra
Front wheel size
15×6.00-6
Rear wheel size
18×8.50-8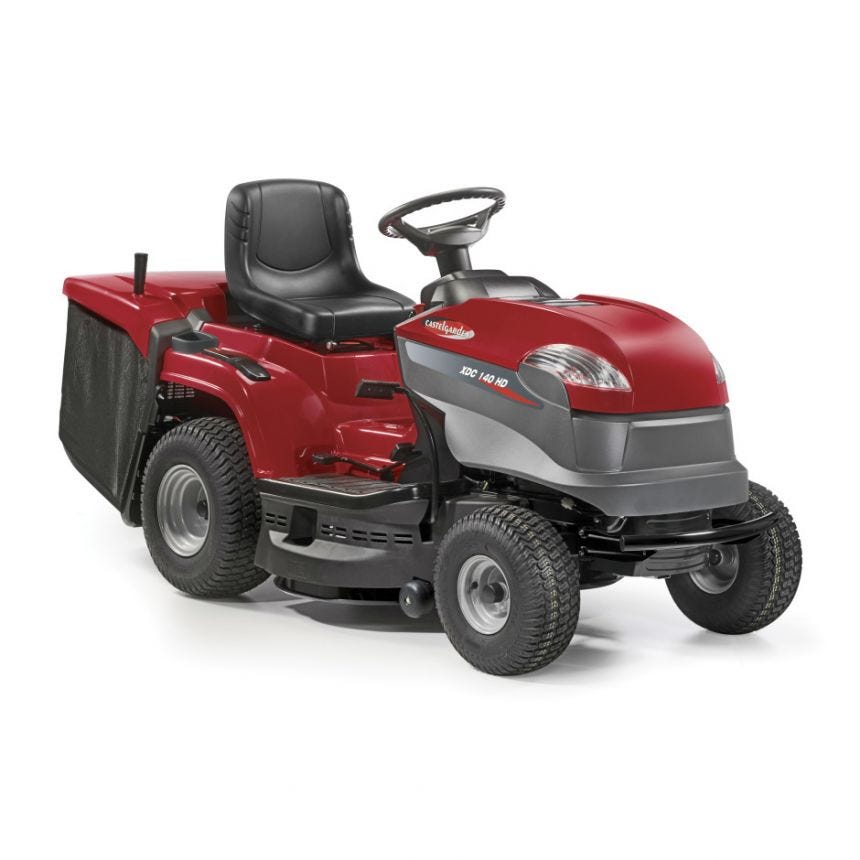 CASTELGARDEN XDC140HD
RRP €    NOT AVAILABLE
The Castelgarden XDC140HD tractor lawn mower is designed for medium sized gardens. Powered by a Briggs & Stratton PowerBuilt Series 3130 AVS 344cc engine, it comes with hydrostatic transmission which allows for easier control in obstructed areas. It's equipped with a 84cm cutting deck with twin contra-rotating collecting blades for high collection performance. Engaging the deck couldn't be easier with its electronic blade engagement feature; one simply has to pull the control switch for "On" and push it in for "Off". It has seven preset cutting heights, ranging from 25mm to 80mm, which are selected by using the lever located conveniently at the side of the seat.
The rear mounted 240 litre grasscatcher can be easily emptied from the drivers seat; just pull the tipping lever and the collector opens wide emptying out the clippings. The Castelgarden XDC140HD tractor mower also has an adjustable seat that provides the driver with optimum comfort. A wash facility on the deck means keeping it clean couldn't be simpler; just attach a hose to the snap-on connector, turn on the water and engage the blades. The XDC 140 HD also comes with headlights that ensure better visibility at any hour of the day. Battery charger and tow hitch are included, but the mulching kit is an optional extra.
SUITABLE FOR GARDEN UP TO 3,500m2
ENGINE
BRIGGS & STRATTON 344CC, NET POWER OUTPUT OF 5.8 KW @ 2400 RPM
TRANSMISSION
PEDAL-OPERATED HYDROSTATIC TRANSMISSION
CUTTING DECK
84 CM CUTTING DECK WITH ANTI-SCALP WHEELS
BLADES
2
GRASS COLLECTOR
240L
HEADLIGHTS
YES
FRONT BUMPER
YES
BATTERY CHARGER
INCLUDED
TOW HITCH INCLUDED
INCLUDED
MULCH KIT
OPTIONAL
Front wheel size
15×6.00-6
Rear wheel size
18×8.50-8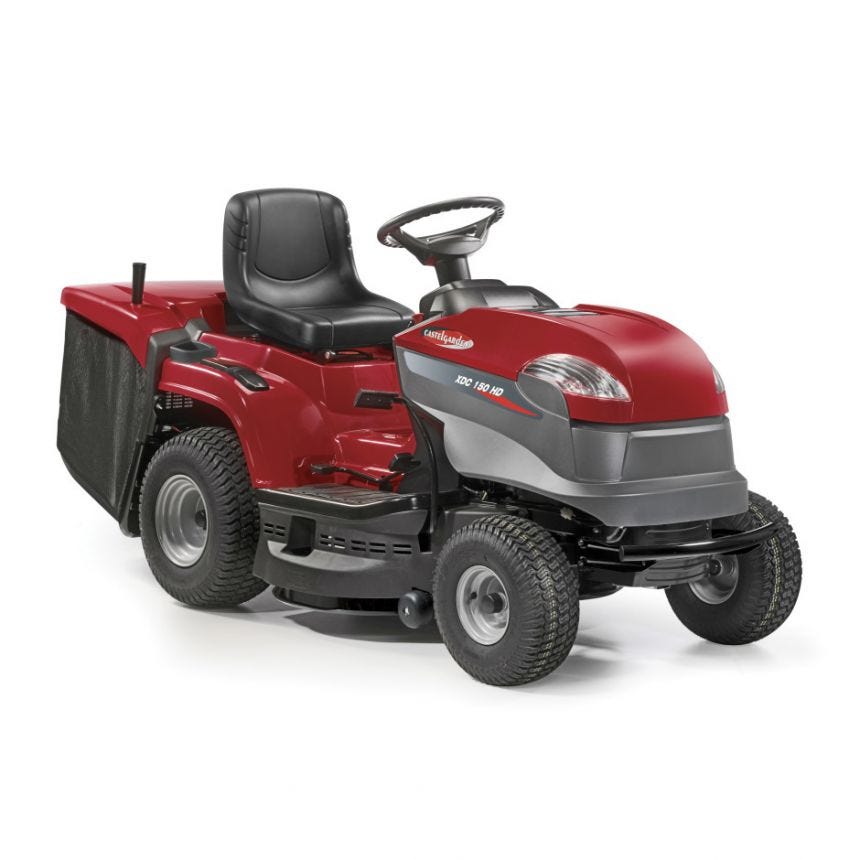 CASTELGARDEN XDC 150HD
RRP €3,199    ( contact us for our best price available )
The Castelgarden XDC 150 HD is a ride-on mower powered by a single-cylinder engine with a net power output of 7.4 kW @ 2400 rpm. The mower is equipped with a pedal-operated hydrostatic transmission that enables steady forward speed control without having to change gears. The 84 cm cutting deck has two blades and 7 cutting height settings ranging from 25 to 80 mm with an electromagnetic blade engagement clutch. The XDC 150 HD has a 240-litre rear grass collector, an ergonomically designed seat, cup holder, electromagnetic blade clutch and headlights. Battery charger and tow hitch included. This mower can be set to mulch grass clippings using an optional mulching kit.
SUITABLE FOR GARDEN UP TO 3,700m2
ENGINE
CASTELGARDEN ENGINE 452CC , NET POWER OUTPUT OF 7.4 KW @ 2400 RPM
Transmission
PEDAL-OPERATED HYDROSTATIC TRANSMISSION
CUTTING DECK
84CM WITH ANTI-SCALP WHEELS
BLADES
2
GRASS COLLECTOR
240L
HEADLIGHTS
YES
FRONT BUMPER
YES
BATTERY CHARGER
Optional Extra
TOW HITCH
Optional Extra
MULCH KIT
Optional Extra
Front wheel size
15×6.00-6
Rear wheel size
18×8.50-8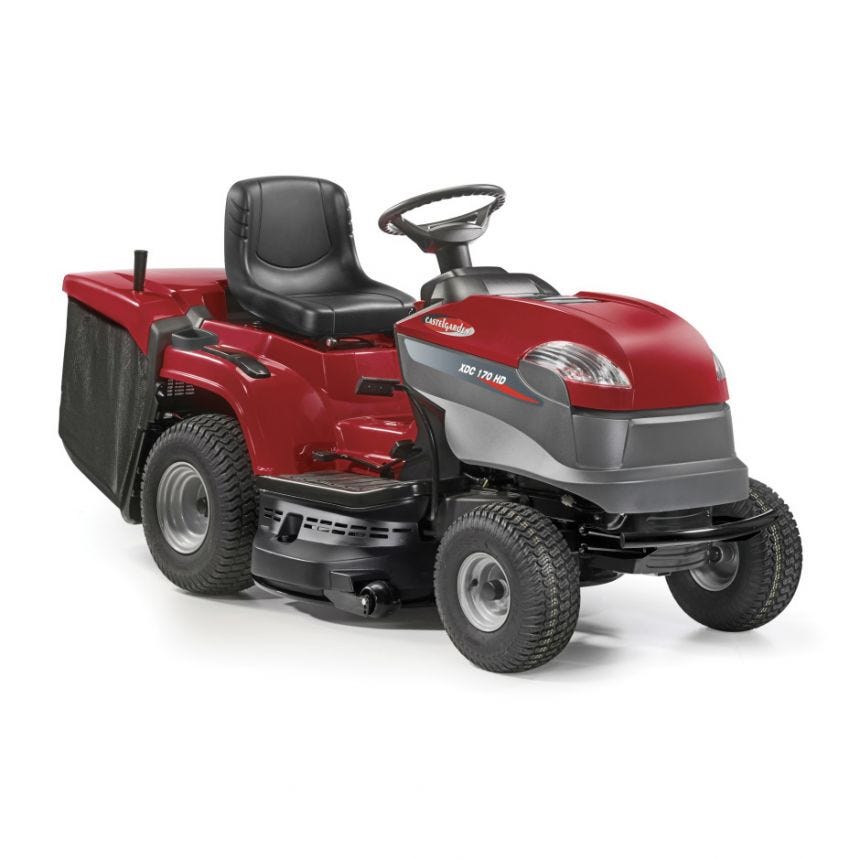 CASTELGARDEN XDC165 HD
NOT AVAILABLE
The Castelgarden XDC 160 HD is a lawn tractor for gardens up to 4000 sqm³. Powered by Kawasaki 603 cc engine, this machine features a pedal operated, hydrostatic transmission and is provided with a 98 cm cutting deck with anti-scalp wheels, 7 cutting height adjustments from 25 to 80 mm, electromagnetic blade engagement. The XDC 165 HD is a highly-specified machine equipped with the Castelgarden soft grip steering wheel, a comfortable seat a cup holder and front bumper. With the XDC 165 HD you can both collect grass into a grass box of 240 L or perform the mulching function by inserting the mulching plug. Battery charger, a mulching kit, and trailer hitch are included.
SUITABLE FOR GARDEN UP TO 4,000m2
ENGINE
KAWASAKI FS481V V TWIN , 603CC
TRANSMISSION
PEDAL-OPERATED HYDROSTATIC TRANSMISSION
CUTTING DECK
98CM
BLADES
2
GRASS COLLECTOR
240L
HEADLIGHTS
YES
FRONT BUMPER
YES
BATTERY CHARGER
INCLUDED
TOW HITCH
INCLUDED
MULCH KIT
INCLUDED
Front wheel size
15×6.00-6
Rear wheel size
18×8.50-8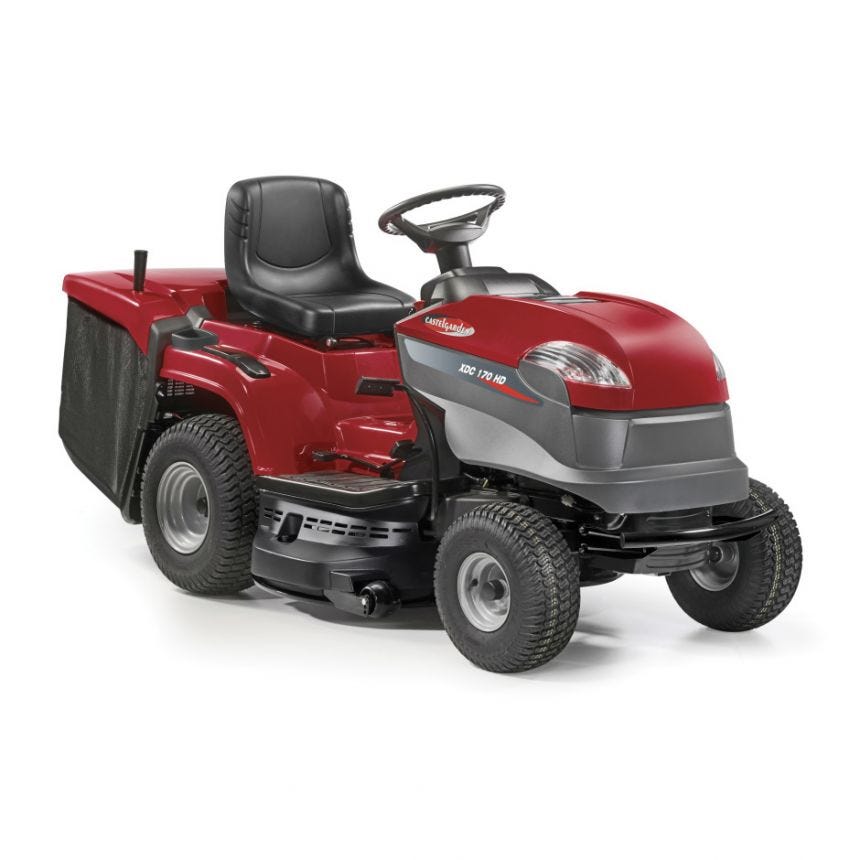 Castelgarden XDC 180 HD
RRP €3,749  ( contact us for our best price available )
The Castelgarden XDC 180 HD lawn tractor is made for collecting big quantities of cut grass is powered by a Castelgarden ST 550 twin-cylinder engine. The pedal-operated hydrostatic transmission allows an easier and stress-less speed management. The 98 cm cutting deck is equipped with two blades and anti-scalp wheels. The cutting height can be adjusted to 7 different settings, ranging from 25 to 80 mm, to better adapt any grass condition. The blades are engaged via an electromagnetic clutch, without any effort and without having to push or pull any lever. The grass collector can hold up to 240 litres of clippings, so to ensure long cutting sessions without any need of stopping and emptying the bag. The ergonomically designed seat and soft-grip steering wheel offer extra comfort. The battery charger is included.
Suitable for gardens up to 4,500m2
ENGINE
CASTELGARDEN ST550 TWIN CYLINDER 586CC
TRANSMISSION
PEDAL-OPERATED HYDROSTATIC TRANSMISSION
CUTTING DECK
98CM
BLADES
2
GRASS COLLECTOR
240L
HEADLIGHTS
YES
FRONT BUMPER
YES
BATTERY CHARGER
Optional Extra
TOW HITCH
Optional Extra
MULCH KIT
Optional Extra
Front wheel size
15×6.00-6
Rear wheel size
18×8.50-8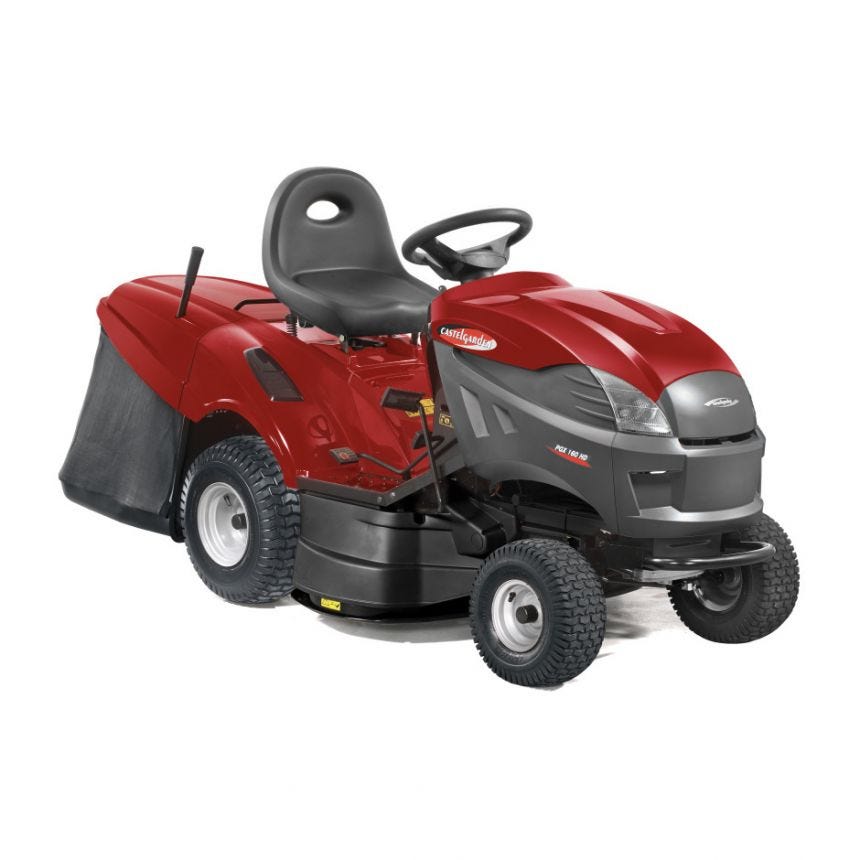 Castelgarden PGX 175 HD
RRP €  ( contact us for our best price available )
The Castelgarden PGX 175 HD ride-on mower is powered by a Castelgarden ST 550 V Twin ,586cc engine with a hydrostatic transmission and a 92 cm cutting deck. The PGX 175 HD makes it possible to choose between 7 different cutting heights, from 25 to 80 mm; the blades are operated using an electromagnetic clutch. The grass collection bag holds 290 litres. The ergonomic seat back and the soft-grip steering wheel offer good driving comfort. The PGX 175 HD is equipped with a front headlamp and is sold with the battery charger and tow bar included. This garden tractor can also mulch thanks to the kit included.
SUITABLE FOR GARDENS UP TO 4,000m2
ENGINE
Castelgarden ST 550 V Twin, 586 cc engine
TRANSMISSION
PEDAL-OPERATED HYDROSTATIC TRANSMISSION
CUTTING DECK
92 CM CUTTING DECK
BLADES
2
GRASS COLLECTOR
290L
HEADLIGHTS
YES
FRONT BUMPER
YES
BATTERY CHARGER
INCLUDED
TOW HITCH INCLUDED
INCLUDED
MULCH KIT
included
Front wheel size
15×6.00-6
Rear wheel size
18×8.50-8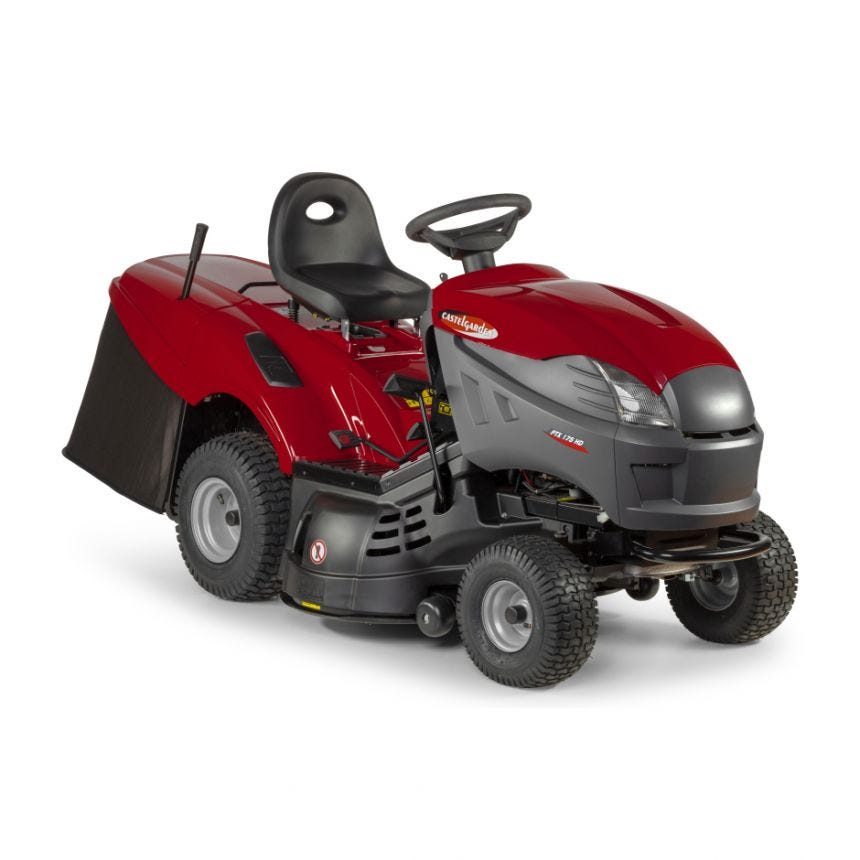 Castelgarden PTX 175 HD
RRP €.  ( contact us for our best price available )
The Castelgarden PTX 175 HD lawn tractor is made for collecting big quantities of cut grass is powered by a powerful and strong Castelgarden twin-cylinder engine. The pedal-operated hydrostatic transmission allows an easier and stress-less speed management. The 102 cm cutting deck is equipped with anti-scalp wheels. The cutting height can be adjusted to 7 different settings, ranging from 25 to 80 mm, to better adapt any grass condition. The blades are engaged via an electromagnetic clutch, without any effort and without having to push or pull any lever. The grass collector can hold up to 290 litres of clippings, so to ensure long cutting sessions without any need of stopping and emptying the bag. The ergonomically designed seat and soft-grip steering wheel offer extra comfort. The battery charger is included.
SUITABLE FOR GARDENS UP TO 5,000m2
ENGINE
CASTELGARDEN ST550 V Twin 586cc ENGINE
Transmission
PEDAL-OPERATED HYDROSTATIC TRANSMISSION
CUTTING DECK
102CM WITH ANTI-SCALP WHEELS
BLADES
2
GRASS COLLECTOR
290L
HEADLIGHTS
YES
FRONT BUMPER
YES
BATTERY CHARGER
INCLUDED
TOW HITCH
INCLUDED
MULCH KIT
OPTIONAL
Front wheel size
15×6.00-6
Rear wheel size
18×8.50-8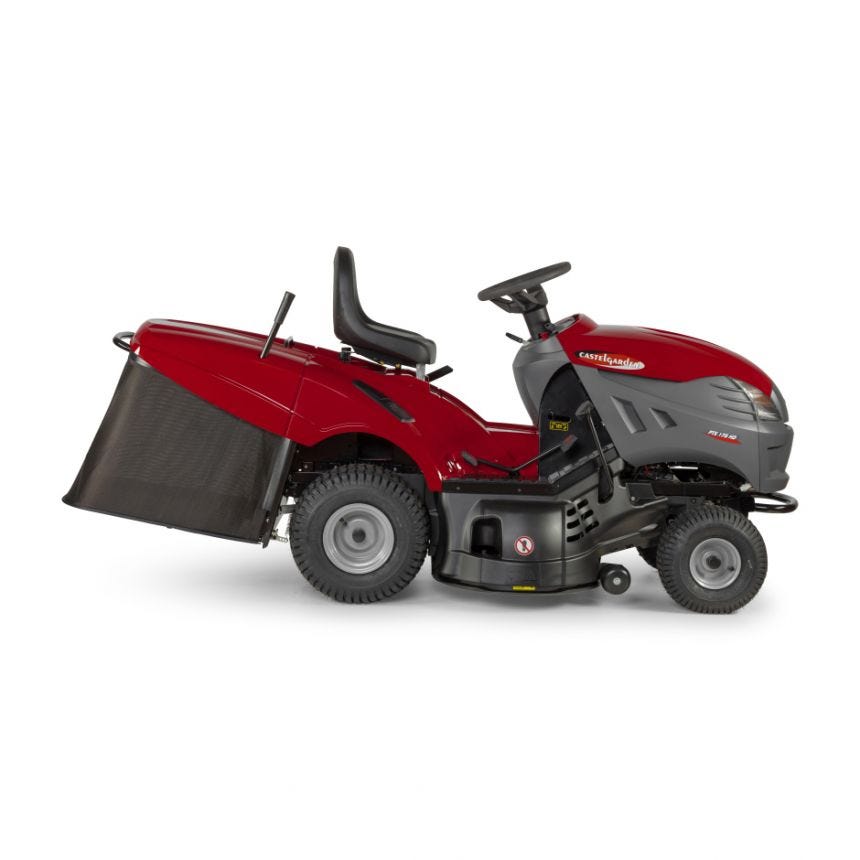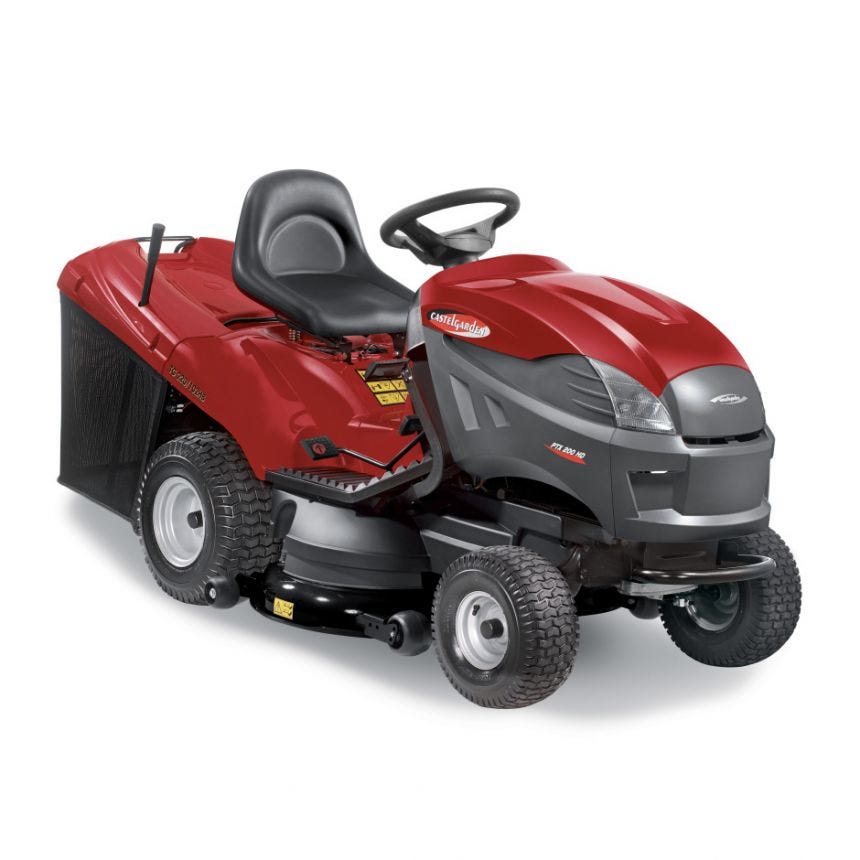 Castelgarden PTX 200 HD
RRP €  ( contact us for our best price available )
The Castelgarden PTX 200 HD ride-on mower is powered by a Twin-cylinder Briggs & Stratton engine with net power output of 10.4 kW @ 2500 rpm and EasyStart electric start. This mower has a hydrostatic transmission and 102 cm cutting deck with anti-scalp wheels. The cutting height on the PTX 200 HD can be adjusted to 7 different settings (ranging from 30 to 90 mm) and the blades are engaged via an electromagnetic clutch. The grass collector can hold 300 litres of clippings. The ergonomically designed seat and soft-grip steering wheel offer good operating comfort. The PTX 200 HD has headlights and is sold with a battery charger included. The mower can also mulch grass clippings using the mulching kit, which can be purchased separately.
SUITABLE FOR GARDENS UP TO 5,500m2
ENGINE
Briggs & Stratton Intek 7220 V-Twin engine 656cc ( 10.4kw net power )
Transmission
PEDAL-OPERATED HYDROSTATIC TRANSMISSION
CUTTING DECK
102CM WITH ANTI-SCALP WHEELS
BLADES
2
GRASS COLLECTOR
300L
HEADLIGHTS
YES
FRONT BUMPER
YES
BATTERY CHARGER
INCLUDED
TOW HITCH
optional
MULCH KIT
OPTIONAL
Front wheel size
15×6.00-6
Rear wheel size
18×8.50-8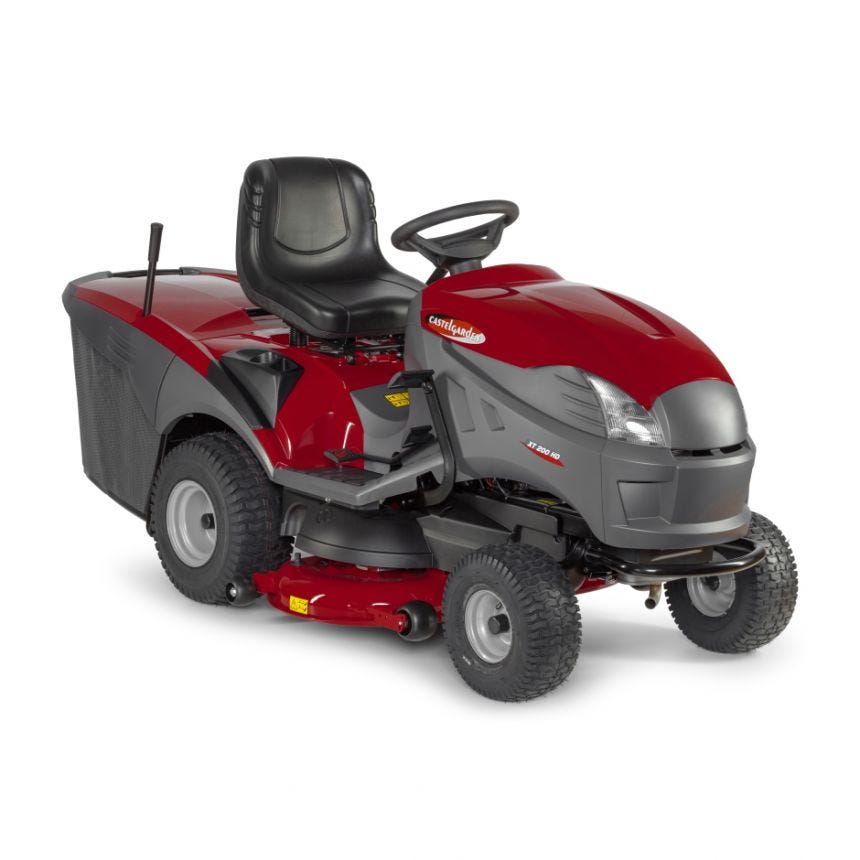 Castelgarden XT 200 HD
RRP €  (. contact us for our best price available )
The Castelgarden XT 200 HD is a ride-on mower, suitable for taking care of the lawn in big gardens. It is powered by a twin-cylinder Castelgarden ST 600 engine. Managing speed is very easy, thanks to the pedal-operated hydrostatic transmission. A 102 cm cutting deck with anti-scalp wheels and 7 cutting height settings, ranging from 30 to 90 mm, to allow you to manage different grass heights. The electromagnetic clutch for blade engagement makes it really effortless to start the blades while driving: no need to stop and get off the tractor. The XT 200 HD can be used to collect grass in the 320-litre rear collector or you can use the clippings as mulch with the included mulching kit. The XT 200 HD has a soft-grip steering wheel, headlights and control panel for monitoring the operating indicators. The convenient cruise control function also allows you to set a constant speed and optimise the cutting time.
SUITABLE FOR GARDEN UP TO 7,000m2
ENGINE
Castelgarden ST 600 V twin cylinder, 586cc
Transmission
Pedal-Operated Hydrostatic Transmission
CUTTING DECK
102cm
BLADES
2
GRASS COLLECTOR
320L
HEADLIGHTS
Yes
FRONT BUMPER
Yes
BATTERY CHARGER
Included
TOW HITCH
Included
MULCH KIT
Optional
Front wheel size
15×6.00-6
Rear wheel size
18×8.50-8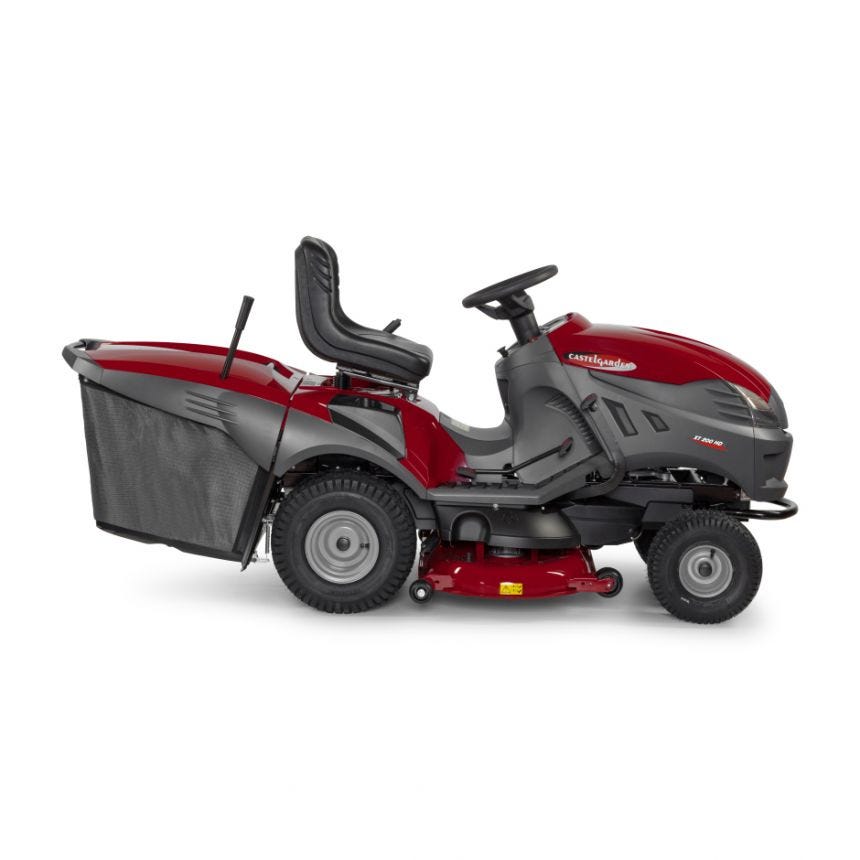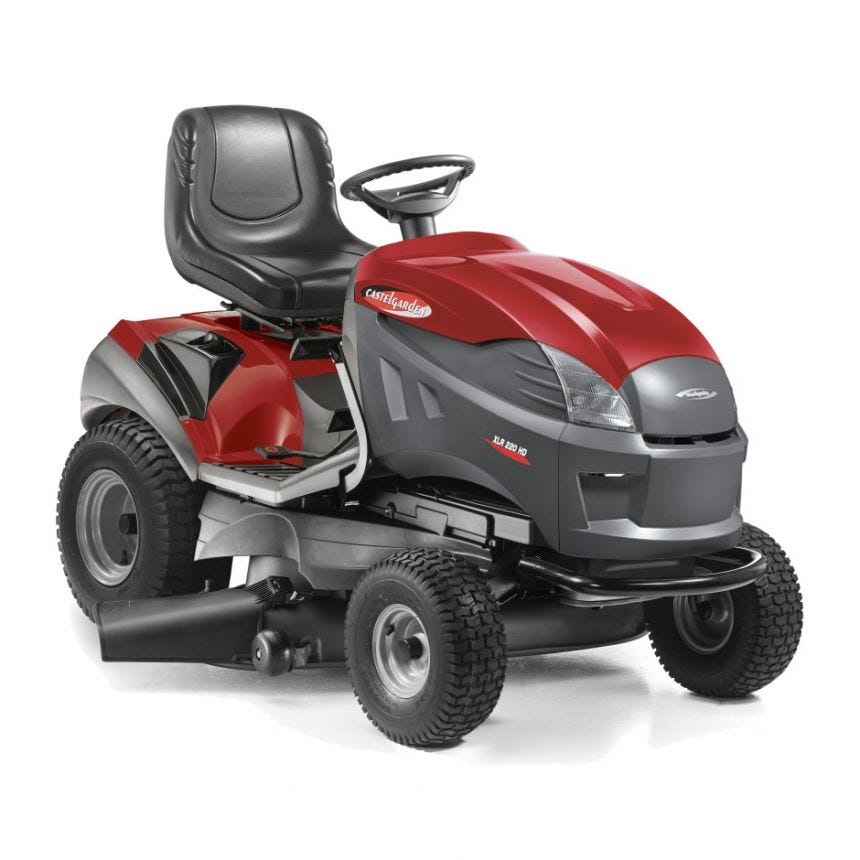 Castelgarden XLR 220 HD
RRP €4,400   ( contact us for our best price available )
The Castelgarden XLR 220 HD lawn tractor is made for cutting big quantities of tall or wild grass and side discharging it. This strong lawn tractor is powered by a Castelgarden ST 600 twin-cylinder engine. The pedal-operated hydrostatic transmission, combined with the cruise control function, allows an easier and stress-less speed management. The 108 cm cutting deck is equipped with two blades and anti-scalp wheels. The cutting height can be adjusted to 7 different settings, ranging from 30 to 90 mm, to better adapt any grass condition. The powerful hedalights allow to work also in low-light conditions. The lawn tractor features a 6-LED display, with all operating information and maintenance alerts. Robustness is ensured by a cast-iron front axle and reinforced cutting deck. The ergonomically designed seat and soft-grip steering wheel offer extra comfort. The battery charger is included.
Suitable for gardens up to 7,500m2
ENGINE
Briggs & Stratton Intek V TWin Cylinder 656cc
TRANSMISSION
PEDAL-OPERATED HYDROSTATIC TRANSMISSION
CUTTING DECK
108CM
BLADES
2
GRASS COLLECTOR
no
HEADLIGHTS
YES
FRONT BUMPER
YES
BATTERY CHARGER
INCLUDED
TOW HITCH
INCLUDED
MULCH KIT
included
Front wheel size
15×6.00-6
Rear wheel size
20×10.00-10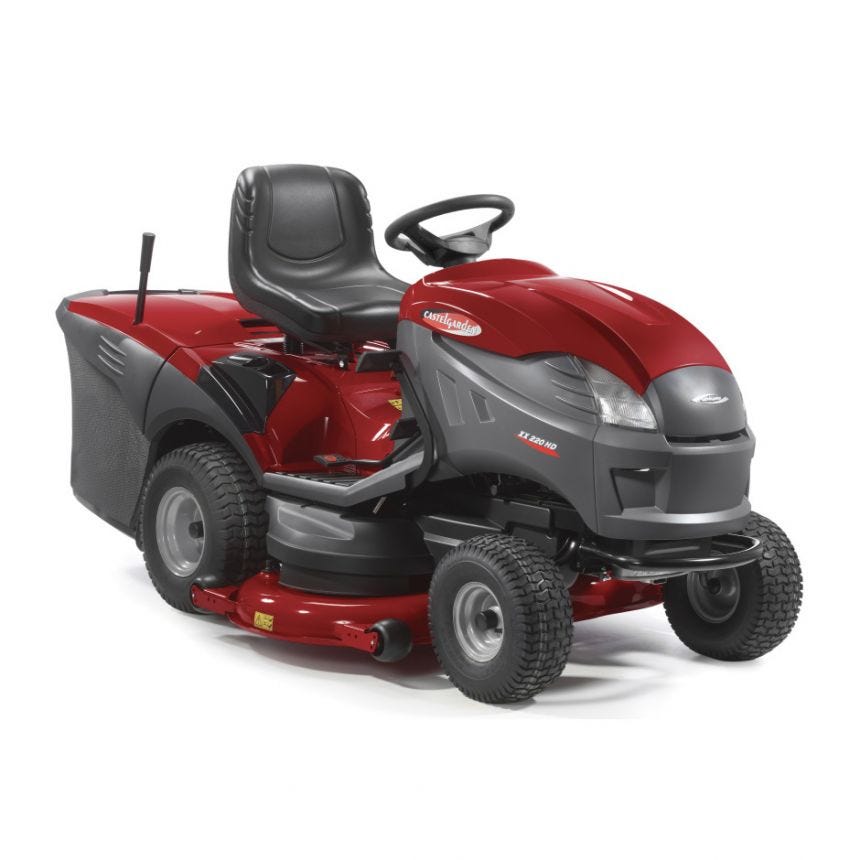 Castelgarden XX 220 HD
RRP €  ( contact us for our best price available )
The Castelgarden XX 220 HD ride-on mower has a twin-cylinder Kawasaki petrol engine with a net power output of 11.2 kW @ 2700 rpm and hydrostatic transmission. The XX 220 HD has a 122 cm cutting deck with two blades, anti-scalp wheels and 7 cutting height settings ranging from 30 to 90 mm. The XX 220 HD can collect grass clippings in the 320-litre rear collector or you can mulch using the mulching kit included. User comfort is provided by an ergonomic, soft-grip steering wheel, headlights and a control panel showing operating indicators. The convenient cruise control function allows you to set a constant speed, thereby optimising the cutting time. Battery charger, mulching kit and tow hitch are included.
Suitable for gardens up to 8,000m2
ENGINE
Kawasaki FS 600 v Twin Cylinder, 603cc
TRANSMISSION
PEDAL-OPERATED HYDROSTATIC TRANSMISSION
CUTTING DECK
122CM
BLADES
2
GRASS COLLECTOR
320L
HEADLIGHTS
YES
FRONT BUMPER
YES
BATTERY CHARGER
INCLUDED
TOW HITCH
INCLUDED
MULCH KIT
OPTIONAL
Front wheel size
15×6.00-6
Rear wheel size
18×8.50-8

Castelgarden XHX 240 4WD E
RRP €7,500  ( contact us for our best price available )
The Castelgarden XHX 240 4WD E ride-on mower has a powerful twin-cylinder Briggs & Stratton engine with a net power output of 13.1 kW @ 2600 rpm. It has EasyStart technology, hydrostatic transmission and 4-wheel drive. The XHX 240 4WD E can be used to collect grass in the 360-litre rear collector or you can choose to mulch using the mulching kit included.. The reinforced 122 cm cutting deck has synchronised blades, anti-scalp wheels, 9 cutting height settings ranging from 25 to 100 mm and an electromagnetic blade engagement clutch. Driver comfort is ensured by headlights, a dashboard with advanced display for monitoring the machine's performance and cruise control. Battery charger, mulching kit and tow hitch are included.
Suitable for gardens up to 8,000m2
ENGINE
Briggs & Stratton Intek 8240 AVS , V Twin 724cc
TRANSMISSION
PEDAL-OPERATED HYDROSTATIC TRANSMISSION
CUTTING DECK
122CM
BLADES
2
GRASS COLLECTOR
360L c/w electric dump
HEADLIGHTS
YES
FRONT BUMPER
YES
BATTERY CHARGER
INCLUDED
TOW HITCH
INCLUDED
MULCH KIT
OPTIONAL
Front wheel size
16×6.50-8
Rear wheel size
20×10.00-10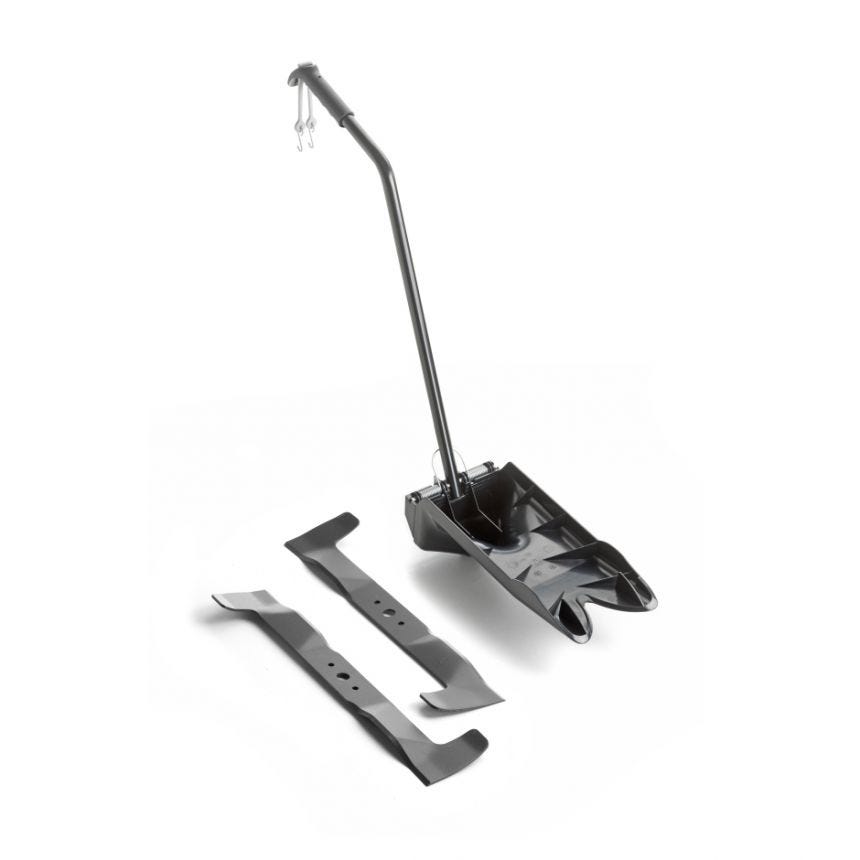 Mulching Kits
Ideal for mulching, finely shredding the grass cuttings and depositing them on the ground as a natural lawn fertiliser. The kit includes a mulching plug which blocks the entrance to the collection tunnel and special blades to maximise mulching performance.
Mulching kits available for all castelgarden tractor mowers